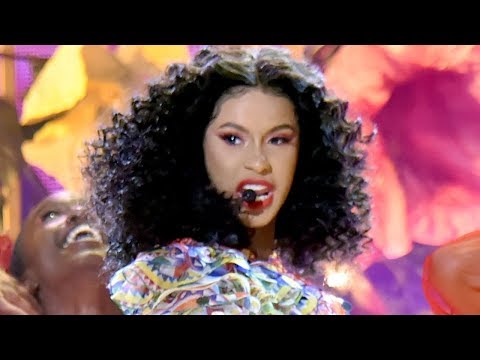 Song Details
| | |
| --- | --- |
| Source | Youtube.com |
| Song title | Cardi B Makes BOLD Post-Baby Return to 2018 AMA Stage With "I Like It" |
| Duration | 1:23 |
| Bitrate | 128Kbps |
More Celebrity News ►► http://bit.ly/SubClevverNews

The performance started with the camera showing a birds eye view of Cardi lying on a turntable stage in a festive colorful dress as dancers performed around her. This performance was easily the most generous display of color I've ever seen and totally went with the theme of her red carpet outfit. The production value of the whole performance was top notch, her skirt detached at one point, Bad Bunny was rolled out onto the stage in a shopping cart, sparklers went off and were spinning, J Balvin was getting his life, it was everything.
The whole thing was beautiful, the Latin vibes were alive and well and I loved every second of it. You know who else loved it? Taran Kilman from SNL who's jaw practically dislocated from his face when the camera panned over to him.
Cardi is on fire and I see no signs of her slowing down. What did you guys think of her AMA's performance with J Balvin and Bad Bunny? Let me know in the comment section below. Thanks for watching! Please click to the right to watch another new video and don't forget to subscribe to our channels. I'm your host Drew Dorsey and I'll see you next time.


For More Clevver Visit:
There are 2 types of people: those who follow us on Facebook and those who are missing out http://facebook.com/clevver

Keep up with us on Instagram: http://instagr.am/Clevver
Follow us on Twitter: http://twitter.com/ClevverTV
Website: http://www.clevver.com


Add us to your circles on Google+: http://google.com/+ClevverNews
Tweet Me: http://www.twitter.com/Drew...