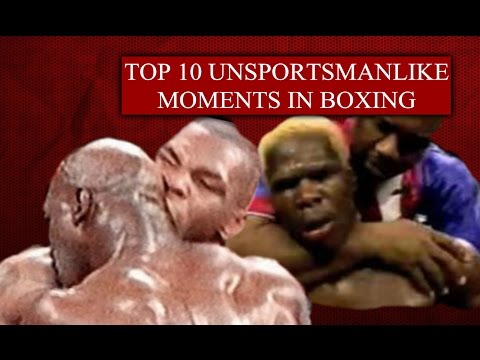 Song Details
| | |
| --- | --- |
| Source | Youtube.com |
| Song title | Top 10 Unsportsmanlike Moments in Boxing |
| Duration | 6:10 |
| Bitrate | 128Kbps |
These are the 10 most unsportsmanlike / cheapest moments in boxing history. Which one you thought was the worst shot? Tell me in the comments.




**TOP 10 WATCH THE VIDEO FIRST!**

10. Andrew Golota vs. Samson Po'uha. Golota bit Po'uha in the shoulder.
9. Billy Dib vs. Kenichi Yamaguchi. Billy hit Kenichi in the head when he was on the floor. After that he pushed Kenichi.
8. Floyd Mayweather Jr vs. Victor Ortiz. Ortiz was trying to apologize Mayweather for his ''head put''. Then Mayweather knocked him out while he was trying to apologize.
7. Riddick Bowe vs. Buster Mathis. Mathis was already down. Then Bowe hit him into the head resulting a KO.
6. Vido Loncar vs. Algirdas Baniulis. After the fight Loncar attacked the referee hitting him several times. He got banned for life and was arrested.
5. Andre Dirrell vs. Arthur Abraham. Abraham got hit byt Dirrell while he was on the ground. The punch knocked him out.
4. Mike Tyson vs. Evander Holyfield. Tyson bit Holyfield in to the ear while they were fighting. Later that match he bit him again and got disqualified.
3. Anthony Peterson vs. Brandon Rios. Peterson hit many lowblows. After the 4th one he got disqualified.
2. Luis Resto vs. Billy Collins Jr. Resto didn't have padding in his gloves. Resto won the fight and Collins was left unable to box again. He committed suicide because of this.
1. James Butler vs. Richard Grant. The fight was over and Grant won. Grant was going to thank Butler but then got sucker punched by Butler. Butler didn't even have his gloves on while hitting Grant.